ITMS 16th General Meeting: Campus Accomodations
Dunne Hall
Conference registrants purchasing a private or shared room on campus will reside in Dunne Hall. Rooms have a vanity and sink in each space. Communal restrooms, one male and one female, are on each floor. There are laundry rooms on the second floor, the fourth floor, and in the basement; and kitchens on floors two through five. Each person is provided a twin XL bed frame and mattress, desk, rolling desk cabinet, desk chair, and set of three stacking dresser drawers. Each room also includes a closet and vanity with sink, cabinet, and drawers. Though all rooms have two beds, if you booked a private room, there will be no one else in your room.
During the 2016 summer, the Dunne Residence Hall was renovated. The student rooms were completely renovated and refurbished with new flooring, vanity and sink areas, and individually controlled heating and air conditioning units.
Nota bene: Towels and bed linens are provided by the campus. Please bring your own soap and shampoo.
For Dunne Hall's location on campus, click here for a map and search for "Dunne Hall".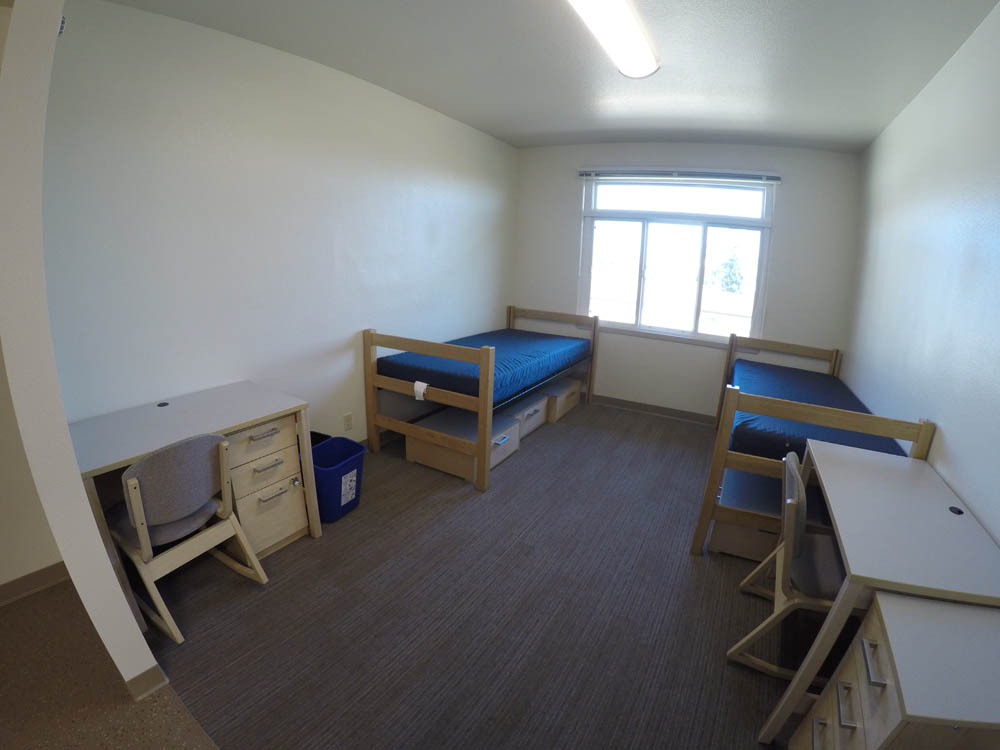 Above: a photo of a renovated room in Dunne Hall.
Follow this link for an overhead floorplan of a room in Dunne Hall (video tours on that site show rooms pre-renovation): https://www.scu.edu/living/residential-living-options/video-tours--room-layouts/residence-hall-room-layouts/dunne-double-room/
Follow this link for a floorplan of a sample floor in Dunne Hall (pdf): Example floor of Dunne Hall
For those prefering to reside off campus and commute to campus for activities, please click here for a list of area hotels.
Click here to return to the main page.