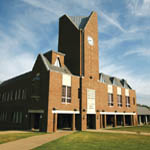 visiting the thomas merton center
The Merton Center is currently open to casual visitors from Monday-Friday, 9 am - 4 pm.
Bellarmine University is a vaccinated campus and we ask our visitors and guests to be vaccinated as well.
Location and parking
The Thomas Merton Center is located on the second floor of the W. L. Lyons Brown Library at the center of the Bellarmine University campus.
Click here for a campus map and directions.
Limited parking for visitors is available in front of Horrigan Hall, the main administration building on campus. If there is no visitor parking available then just find a parking place and go either to the reception desk or the security office in Horrigan Hall to get a temporary parking permit.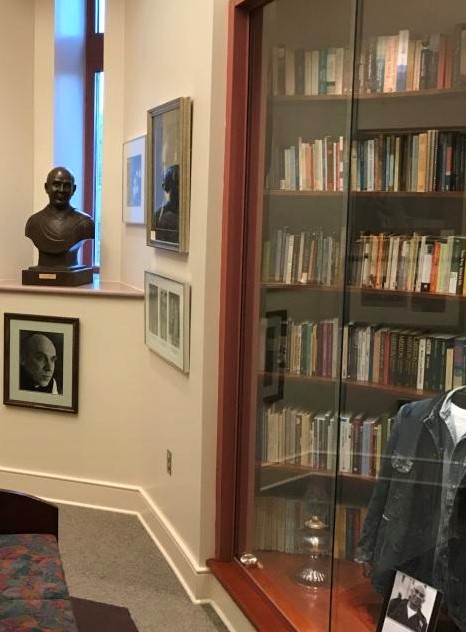 at the center...
What Can I See?

Display cases around the Center highlight materials from the research collections, including examples of Thomas Merton's manuscripts, letters from the Center's holdings of correspondence between Merton and over 2,100 correspondents, and some personal items.
A variety of photographs, drawings and calligraphies by Thomas Merton are exhibited throughout the Center, along with other artistic interpretations of him, including portraits by Randall S. Browning, and Diane Kahlo; bronzes by Milly Kaeser, David Kocka, Ernest Ranspach, and Timothy P. Schmalz; and quilts by Penny Sisto.
A selection of paintings and drawings by Owen Merton, Thomas Merton's father, are on exhibit in the Tommie and Frank O'Callaghan Gallery. Owen was described by one critic as "an exceptional man … who absorbed such a formidable influence as Cezanne's without sacrificing his originality." A virtual gallery exhibiting all of the works by Owen Merton held in the Merton Center collections is available at: merton.org/Owen/.
What Can I Do?
In the Center's reading room a complete set of books and journals by and about Merton is available along with related books on Cistercian Monasticism, biographies and autobiographies of related figures, and other books of interest. Visitors are welcome to browse and read these books.
Visitors can listen to audio recordings of Thomas Merton's conferences at Gethsemani that were recorded between 1962 and 1968 and documentaries introducing his life and thought can be viewed upon request.
The Tommie and Frank O'Callghan Gallery is available for quiet contemplation.
Photography, for private use only, is permitted.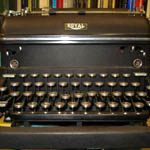 contact information
For questions about Thomas Merton, the Thomas Merton Center, research project information, the Merton archives, or about joining the International Thomas Merton Society, please contact:


Dr Paul M Pearson
Director and Archivist
The Thomas Merton Center
Bellarmine University
2001 Newburg Road
Louisville, Kentucky 40205
(502)-272-8177
pmpearson@bellarmine.edu
Mark C. Meade
Assistant Director
The Thomas Merton Center
Bellarmine University
2001 Newburg Road
Louisville, Kentucky 40205
(502)-272-8187
mmeade@bellarmine.edu