Forthcoming Events
---
Thomas Merton with Road Scholar Program
Road Scholar Program "Week with Thomas Merton"
The Spring 2019 Merton Road Scholar [elderhostel] week will take place from Sunday 31st March until Friday 5th April, 2019. For further details contact Linda Bailey on (502) 272 8161 or by e-mail: lbailey@bellarmine.edu or visit the Road Scholar website.
The Fall 2019 "Week with Merton" will be from October 20-25, 2019.
Read about "A Week with Thomas Merton" in the Bellarmine Magazine.
---
Searching for Thomas Merton:
An Artistic Tribute 1968-2018
by Joe McGee and Penny Sisto
November 30th, 2018 - January 12th, 2019.
Open Daily
McGrath Art Gallery, Bellarmine University
---
Tibetan Sacred Sand Mandala
by Monks of Drepung Gomang Monastery
December 3rd - 6th, 2018
Daily 10 am - 5 pm
Thomas Merton Center

Opening Ceremony: December 3rd at 11.00 am
Closing Ceremony: December 10th at 11.00 am
---
December 10th, 2018 - 7 pm
Cathedral of the Assumption
Mass to mark the 50th Anniversary of the death of
Thomas Merton on December 10th, 1968
Celebrant: Rt. Rev. Joseph E. Kurtz, Archbishop of Louisville.
Homily: Lawrence Morey, OCSO., Our Lady of Gethsemani.
---
Thirteenth Annual Thomas Merton Black History Month Lecture

"Racism is a White Problem:
Thomas Merton, Whiteness, and Racial Justice"
by Daniel P. Horan, OFM.

February 20th, 2019 - 7 pm.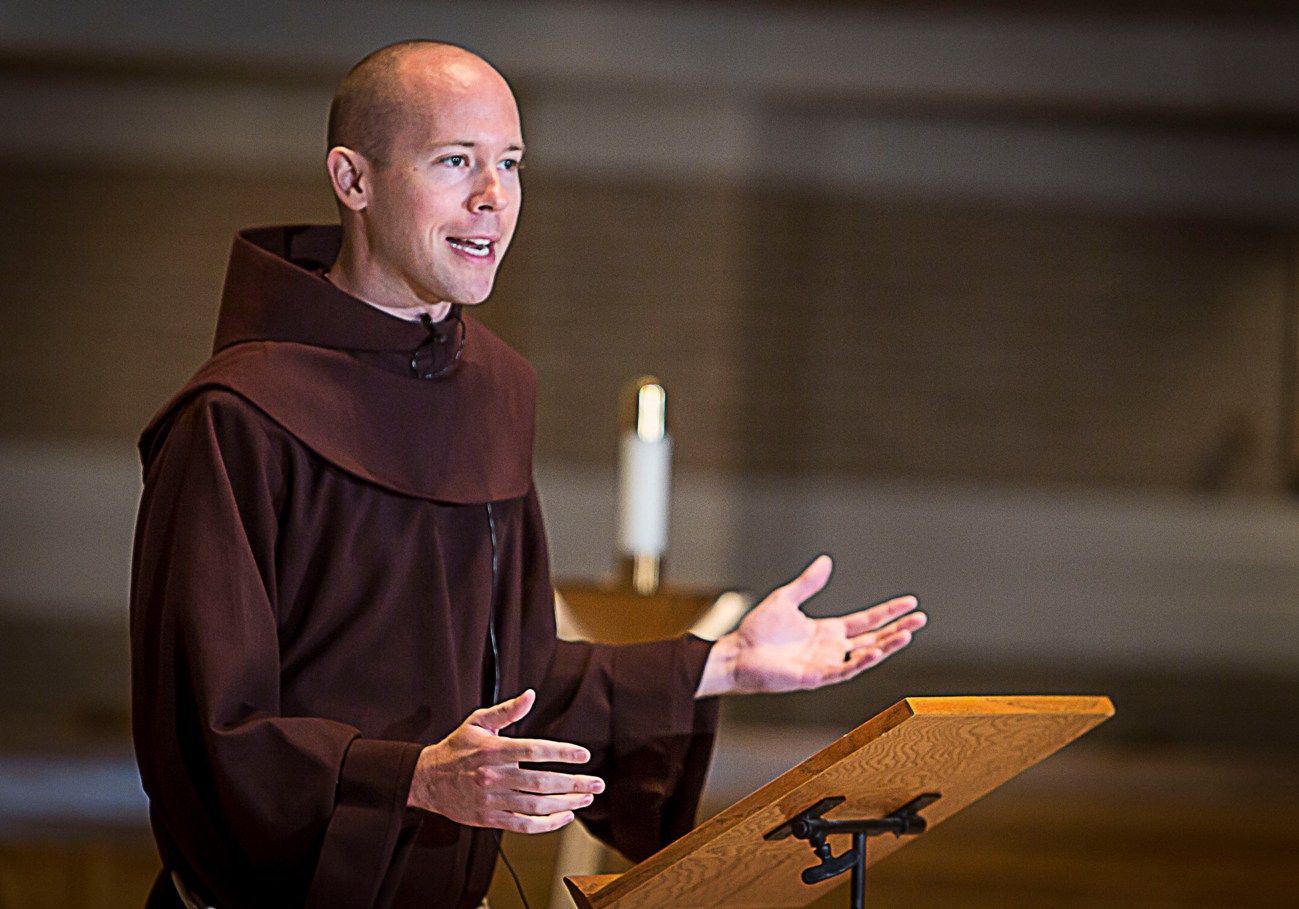 Daniel P. Horan, OFM is a Franciscan friar of Holy Name Province (NY), assistant professor of systematic theology and spirituality at Catholic Theological Union in Chicago, and the author of twelve books including the award-winning The Franciscan Heart of Thomas Merton: A New Look at the Spiritual Influence on his Life, Thought, and Writing (2014). His latest books are titled, Reading, Praying, Living Pope Francis's Rejoice and Be Glad (Forthcoming in 2019) and All God's Creatures: A Theology of Creation (2018). He is the author of numerous popular and scholarly articles; is a frequent lecturer and retreat director around the United States and abroad; and has previously taught at Siena College, St. Bonaventure University, and in the School of Theology and Ministry of Boston College. Fr. Dan currently serves on the Board of Trustees of St. Bonaventure University in New York and the Board of Regents of the Franciscan School of Theology in California. He is also the co-host of The Francis Effect Podcast. Fr. Dan previously served on the Board of Directors of the International Thomas Merton Society, was the Catholic Chaplain at Babson College in Wellesley, Mass., as co-editor of the academic journal New Theology Review, and was a columnist for America magazine. He received his PhD in theology from Boston College, MDiv and MA from the Washington Theological Union (DC), and a BA from St. Bonaventure University. In addition to several other recognitions, he was awarded an honorary doctorate by Felician University (New Jersey) in 2015.
---
'the sacrament of advent': Thomas Merton's Lessons and carols


Listen to Bonnie Thurston's talk:
'The Sacrament of Advent': Thomas Merton's Lessons and Carols
Clarinet solo by Anderson Reeves.
Recorded at Our Lady of the Woods Chapel on Friday 9th December, 2016
Bonnie B. Thurston is a founding member, past president and former board member of the ITMS. She is an ordained minister of the Christian Church (Disciples of Christ) and formerly professor of New Testament at Pittsburgh Theological Seminary. She is the editor of Merton and Buddhism (2007), Thomas Merton: On Eastern Meditation, Hidden in the Same Mystery: Thomas Merton and Loretto, and the author of numerous books on scripture and on spirituality, most recently Hidden in God: Discovering the Desert Vision of Charles de Foucauld, Practicing Silence: New and Selected Verses, A Place to Pay Attention, O Taste and See: A Biblical Reflection of Experiencing God, and is now living in solitude in West Virginia.
---
The Paradox of Place: Thomas Merton's Photography

The exhibit of Merton's photographs celebrating the 40th Anniversary (1963-2003) of the Thomas Merton Collection at Bellarmine University is now a permanent exhibit displayed in the W. L. Lyons Brown Library on the Bellarmine University campus. This exhibit focuses on the places Merton visited in his final travels of 1968 including California, Alaska and Asia and the contrast with his photographs of Gethsemani and his hermitage.
---
Financial assistance is needed to assist with funding these special events at the Thomas Merton Center. If you would be interested in assisting with funding, or becoming a major sponsor for one of these events please contact:
Dr Paul Pearson on (502) 272 8177 or by e-mail: pmpearson@bellarmine.edu