Forthcoming Events
---
Thomas Merton with Road Scholar Program
Road Scholar Program "Week with Thomas Merton"
The Spring 2016 Merton Road Scholar [elderhostel] week will take place from Sunday 6th March until Friday 11th March, 2016. For further details contact Linda Bailey on (502) 272 8161 or by e-mail: lbailey@bellarmine.edu or visit the Road Scholar website.
The Fall "Week with Merton" will be from October 16th - 21st, 2016.
---
10th Annual Thomas Merton Black History Month Lecture
"Do Not Quench the Spirit":
Thomas Merton, Howard Thurman and the Quest
Toward Racial Reconciliation and Peace
C. Vanessa White
Wednesday 24th February, 2016 - 7 pm.
Hilary's, Horrigan Hall, Bellarmine University
Free and Open to the Public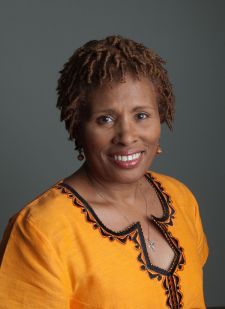 Throughout her ministry and study, C. Vanessa White has had a passionate interest in spirituality and ministry formation. As a formation and retreat minister, catechist, lay missionary director, pastoral minister, and educator, she has been intent on journeying with those who are seeking a greater understanding of God's will in their lives. She has over twenty-five years of experience in ministry and spiritual formation with lay and religious communities. A professed Secular Franciscan with the Sacred Heart Province, she is the Past Convener for the Black Catholic Theological Symposium (BCTS), an interdisciplinary theological association of Black Roman Catholic scholars.
Her publications include the co-edited book Songs of Our Hearts, Meditations of Our Souls – a book of prayers published by St. Anthony Messenger Press (with Cecilia Moore and Paul Marshall, SM) and Liturgy and Justice (contributing author –"Liturgy as Liberating Force) published by Liturgical Press. She is also a regular contributing author for the daily prayer/worship aid – Give Us This Day, published by Liturgical Press. She has published articles and book reviews in various publications including the National Religious Vocation Conference journal – Horizons, New Theology Review, St. Anthony Messenger Press, Horizons – The Journal of the College Theological Society and U.S. Catholic Magazine. She was invited to contribute to the CNN series - Black in America. Her essay on Black Catholics, "Authentically Black and Truly Catholic," can be viewed on CNN.com.
---
In Everything, Mercy:
Thomas Merton and Pope Francis on the Merciful Heart of God
with Christopher Pramuk
In this Jubilee Year of Mercy, Pope Francis has called all peoples of faith and good will to build a "revolution of tenderness" and to reject the cruelties and injustices of our time "which offend the name and life of God." Join us as Christopher Pramuk leads us in a sustained meditation on Mercy in Merton's writings as the very Name and Life of God, and the difficult but beautiful call to become ourselves Mercy as our "Kairos" and path to peace.
February 26th 2016 at 7 p.m.

Holy Family Parish,
3926 Poplar Level Road, Louisville 40213

Free and Open to the Public
February 27th from 10.00 a.m. - 4 p.m.

Our Lady of the Woods Chapel
Bellarmine University, 2001 Newburg Road, Louisville 40205

Registration, including refreshments & light lunch - $20.


Registration Required - See Below.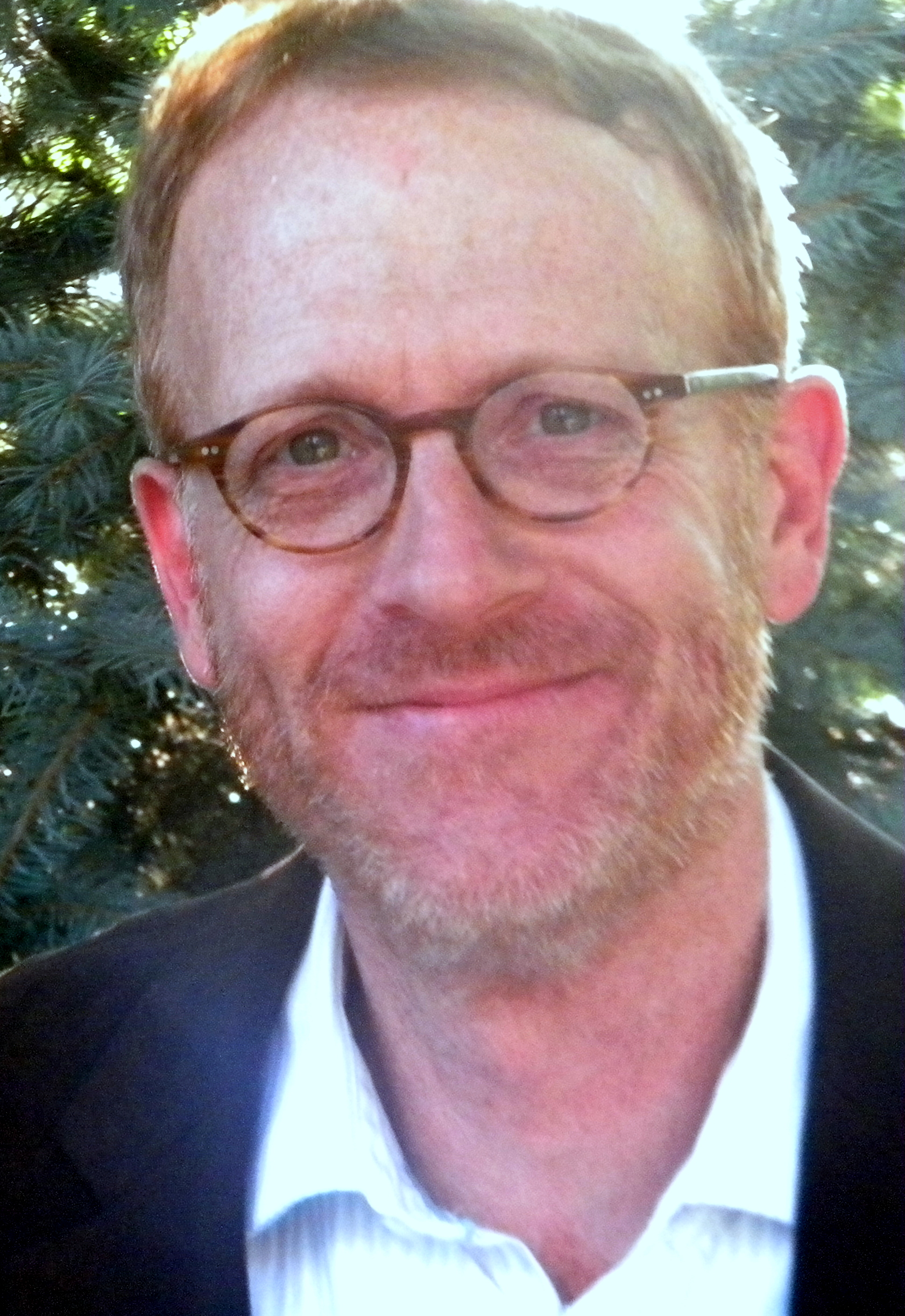 Christopher Pramuk lives with his wife Lauri, a pediatrician, and their four children in Cincinnati, where he teaches theology and spirituality at Xavier University. His award-winning essays have appeared in America magazine, Theological Studies, Cross Currents, and the prayer journal Give Us This Day. He is the author of five books, including At Play in Creation: Merton's Awakening to the Feminine Divine (2014), Hope Sings, So Beautiful: Graced Encounters Across the Color Line (2013), and Sophia: The Hidden Christ of Thomas Merton (2009), which was awarded the International Thomas Merton Society's 2011 "Thomas Merton Award," its highest honor. A lifelong musician and student of African American history and spirituality, he has led workshops on the healing of race relations in society and church as well as retreats on the life and writings of Thomas Merton.
Retreat Schedule
Our Lady of the Woods Chapel
"In Everything Mercy":
Thomas Merton & Pope Francis on the Merciful Heart of God.
10.00 am: Gathering - Opening Prayers
10.15 am: Retreat Conference 1.
11.15 am: Quiet Time
12.15 pm: Lunch
1.45 pm: Retreat Conference 2
2.45 pm: Quiet Time
3.30 pm: Evening Prayer
Fees
$20.00 - including registration for the conference, refreshments, and light lunch.
Please register by February 19th.
---
Thomas Merton:
A Familiar Stranger
January 31 - May 29, 2016
Frazier History Museum
829 West Main Street, Louisville, KY 40202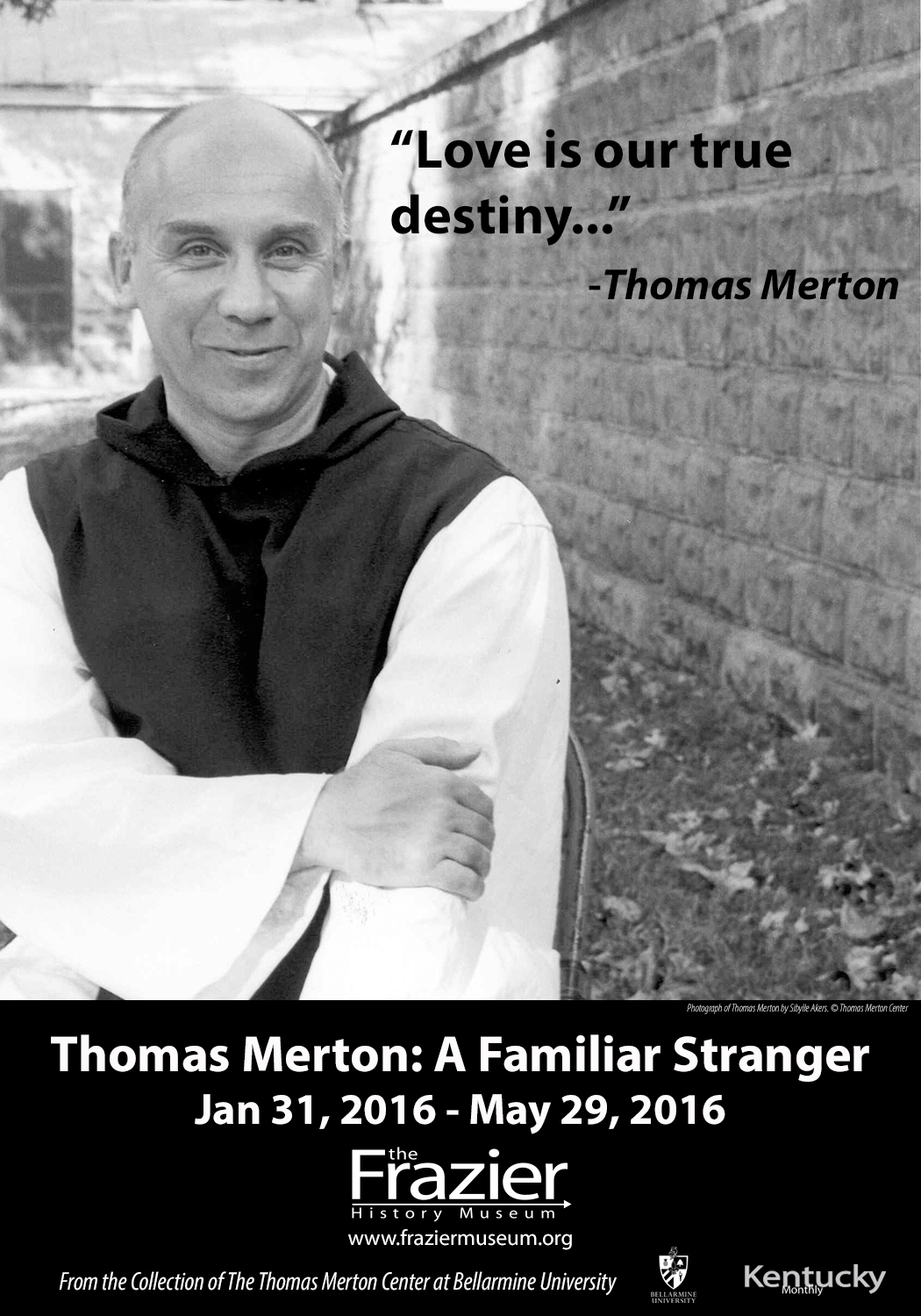 Opening on what would have been Thomas Merton's 101st birthday, January 31, 2016, Thomas Merton: A Familiar Stranger is an exploration into the influence and legacy of one of American's most widely read spiritual writers. Touching on Merton's thoughts on peace and compassion, this exhibition examines racism, violence and interfaith relationships. This exhibit seeks to challenge visitors to think in new ways about their place in the world, their connections with others and to help foster compassion for our fellow people.
From the collections of The Thomas Merton Center at Bellarmine University and the photographic archives of the Courier-Journal this exhibit examines race, nonviolence and compassion in the words of one of America's most influential spiritual writers. See how topics that were at the forefront of public consciousness in Merton's time remain vitally important today, and how one man's words inspired millions of people, including Pope Francis.
1968 is arguably the most tumultuous year in modern American social history. On the fourth of April, Martin Luther King Jr. was assassinated in Memphis. At the end of the year, between a temporary halt to the bombing in North Vietnam and a manned spacecraft orbit of the moon, another death occurred. It was, like his life, a quiet death, but the consequences of it have reverberated across the subsequent decades. Thomas Merton's accidental death on Dec. 10, 1968, in Bangkok, Thailand—coupled with the loss of Dr. Martin Luther King Jr.—ended forever the speculation that these two great spiritual leaders might have together changed the course of history.
Merton Exhibit @ Frazier History Museum
Thomas Merton Events @ Frazier History Museum
<![endif]-->
---
The Paradox of Place: Thomas Merton's Photography

The exhibit of Merton's photographs celebrating the 40th Anniversary (1963-2003) of the Thomas Merton Collection at Bellarmine University is now a permanent exhibit displayed in the W. L. Lyons Brown Library on the Bellarmine University campus. This exhibit focuses on the places Merton visited in his final travels of 1968 including California, Alaska and Asia and the contrast with his photographs of Gethsemani and his hermitage.
---
Financial assistance is needed to assist with funding these special events at the Thomas Merton Center. If you would be interested in assisting with funding, or becoming a major sponsor for one of these events please contact:
Dr Paul Pearson on (502) 272 8177 or by e-mail: pmpearson@bellarmine.edu