Forthcoming Events
---
Thomas Merton with Road Scholar Program
Road Scholar Program "Week with Thomas Merton"
The Spring 2015 Merton Road Scholar program will take place from Sunday 15th March until Friday 20th March, 2015. For further details contact Linda Bailey on (502) 272 8161 or by e-mail: lbailey@bellarmine.edu or visit the Road Scholar website.
The Fall 2015 Merton Road Scholar [elderhostel] week will take place from Sunday 18th October until Friday 23rd October, 2015.
In 2016 the Spring Road Scholar week will be from March 6th - 11th and the Fall week from October 16th - 21st.
---
Thomas Merton and the Spanish Mystics
Cristóbal Serrán-Pagán y Fuentes
Friday 13th March, 2015 - 7pm
Monastery of Mary Immaculate and St. Joseph, 1740 Newburg road, Louisville
Saturday 14th March, 2015 - 10 AM - 4 pm
Our lady of the woods chapel, Bellarmine University
Celebrating the 500th Anniversary of the birth of St. Theresa of Avila and the 100th Anniversary of the birth of Thomas Merton the Thomas Merton Center at Bellarmine University along with the Monastery of Mary Immaculate and St. Joseph is hosting a celebration of Thomas Merton's interest in the Spanish mystics and the Carmelite Order.
10.00 am
Gathering - Opening Prayers
10.15 am
Merton and the Spanish Mystics:
A Cosmic Dance between Contemplative Prayer and Apostolic Action
11.15 am
Quiet Time
12.15 pm
Lunch
1.45 pm
John of the Cross, Teresa of Avila and Thomas Merton:
A Mysticism of Everyday Life
2.45 pm
Quiet Time
3.30 pm
Evening Prayer
---
Retreat Registration, including refreshments and light lunch - $15.00
Checks, made payable to Bellarmine University, should be mailed to:
Melanie Prejean Sullivan, Campus Ministry, Bellarmine University, 2001 Newburg Road, Louisville KY 40205
Registration Form - Print and Return
---
Cristóbal Serrán-Pagán y Fuentes is currently an Associate Professor of Philosophy and Religious Studies at Valdosta State University, Georgia. He received his Ph.D. in Religious Studies from Boston University. The title of his dissertation was, "Mystical Vision and Prophetic Voice in Saint John of the Cross: Towards a Mystical Theology of Final Integration." He is a member of The International Thomas Merton Society and has served as an advisor to the Robert Daggy Scholarship Program for several years. He is a regular contributor to Merton conferences in Europe and the United States. His publications include articles on Merton and the Spanish mystics in Thomas Merton: A Mind Awake in the Dark (Three Peaks Press, 2002) and Seeds of Hope: Thomas Merton's Contemplative Message (Cistercium-Ciem, 2008), Merton on Dr. King and D. T. Suzuki in The Merton Seasonal, and it is the editor of Fons Vitae volume on Merton and the Tao.
---
Merton, Eckhart and Calling:
The Blessings and Perils of Following Your Bliss in a Culture of Conformity
by
Matthew Fox
Friday, March 27, 2015 - 7.00 pm - 9.00 pm
Frazier Hall, Bellarmine University
Tickets - on a sliding scale: $15 - $50
The Thomas Merton Center and Cultivating Connections invites you to join us for this inspiring event exploring the benefits and risks of following your personal sense of calling over societal expectations. In addition to offering insights and stories from Thomas Merton and Meister Eckhart, author and theologian Matthew Fox will be dialoguing with a panel of local community members who have made a commitment to "following their bliss."
Matthew Fox is the internationally recognized, award-winning author of thirty books including his most recent Meister Eckhart: A Mystic Warrior for our Times, Original Blessing, The Reinvention of Work, A Spirituality Called Compassion and The Coming of the Cosmic Christ. He is an instrumental teacher and scholar in the revival of Western mysticism, particularly the work of Hildegard of Bingen, Meister Eckhart, and Thomas Aquinas.
Matthew served as a Catholic priest until 1993 when his progressive theological perspective resulted in his expulsion from the church by then Cardinal Ratzinger (later Pope Benedict). He presently serves as a Episcopal priest and resides in the Oakland, California, area.
---
"Heaven in Ordinary"
- contemplating Merton's Photographs through painting

an exhibit of paintings by Charles MacCarthy

May 11th - June 11th, 2015 - McGrath Art Gallery, Bellarmine University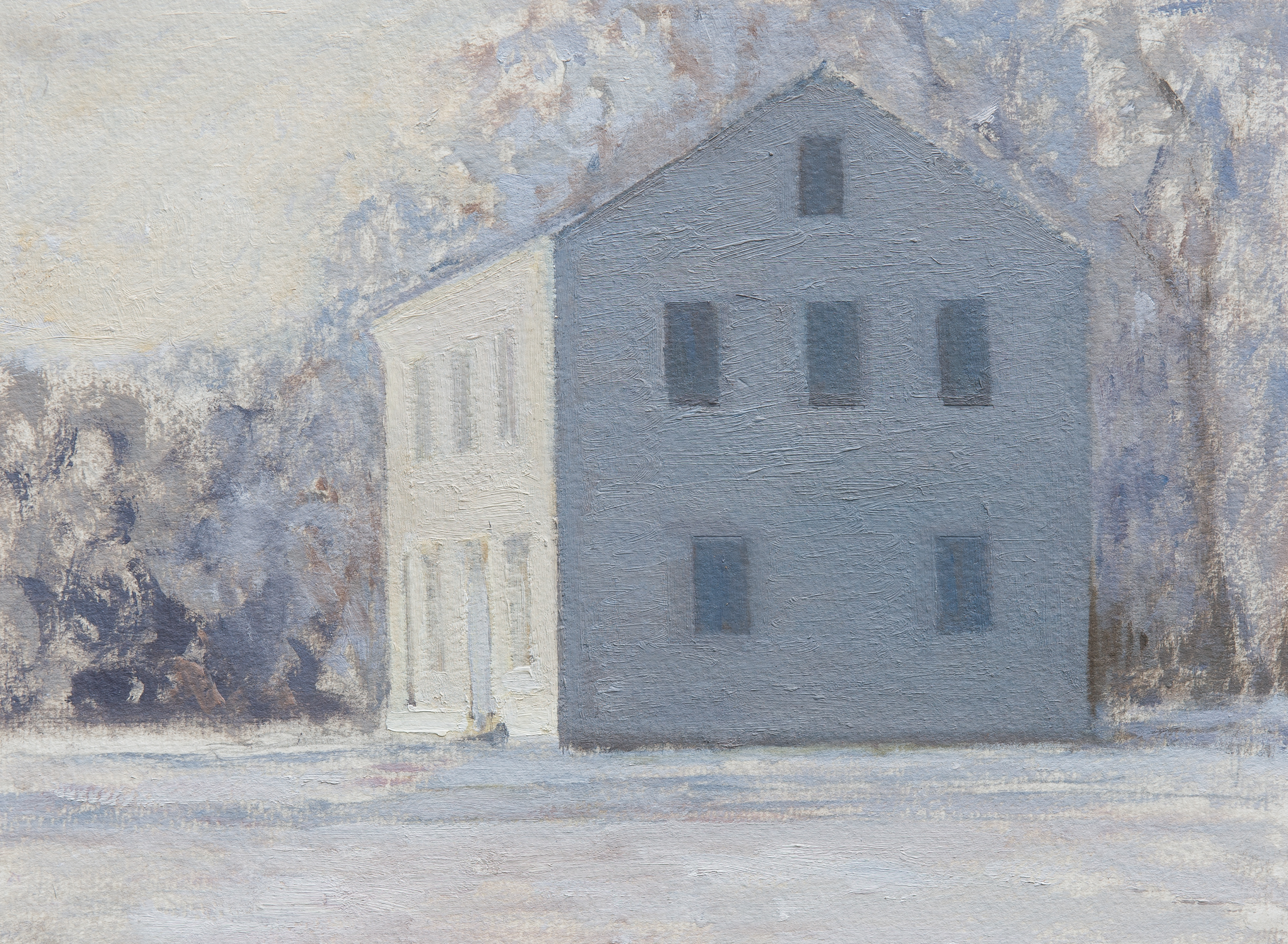 Charles MacCarthy trained at Camberwell School of Art and exhibits regularly in London, Shropshire and Herefordshire where he lives. Charles has drawn inspiration from painters of still life, such as Chardin and Morandi as well as from an intimist tradition including artists such as Bonnard and Gwen John. His artistic practice is one of observing and responding to everyday surroundings. Is it possible to combine these two things? "I have been trying and in this the photographs of Thomas Merton have been a wonderful example. The quality of stillness and attention that is to be found in them comes surely from his finding these things in himself."
---
The Paradox of Place: Thomas Merton's Photography

The exhibit of Merton's photographs celebrating the 40th Anniversary (1963-2003) of the Thomas Merton Collection at Bellarmine University is now a permanent exhibit displayed in the W. L. Lyons Brown Library on the Bellarmine University campus. This exhibit focuses on the places Merton visited in his final travels of 1968 including California, Alaska and Asia and the contrast with his photographs of Gethsemani and his hermitage.
---
Financial assistance is needed to assist with funding these special events at the Thomas Merton Center. If you would be interested in assisting with funding, or becoming a major sponsor for one of these events please contact:
Dr Paul Pearson on (502) 272 8177 or by e-mail: pmpearson@bellarmine.edu