The Merton Annual - Volume 29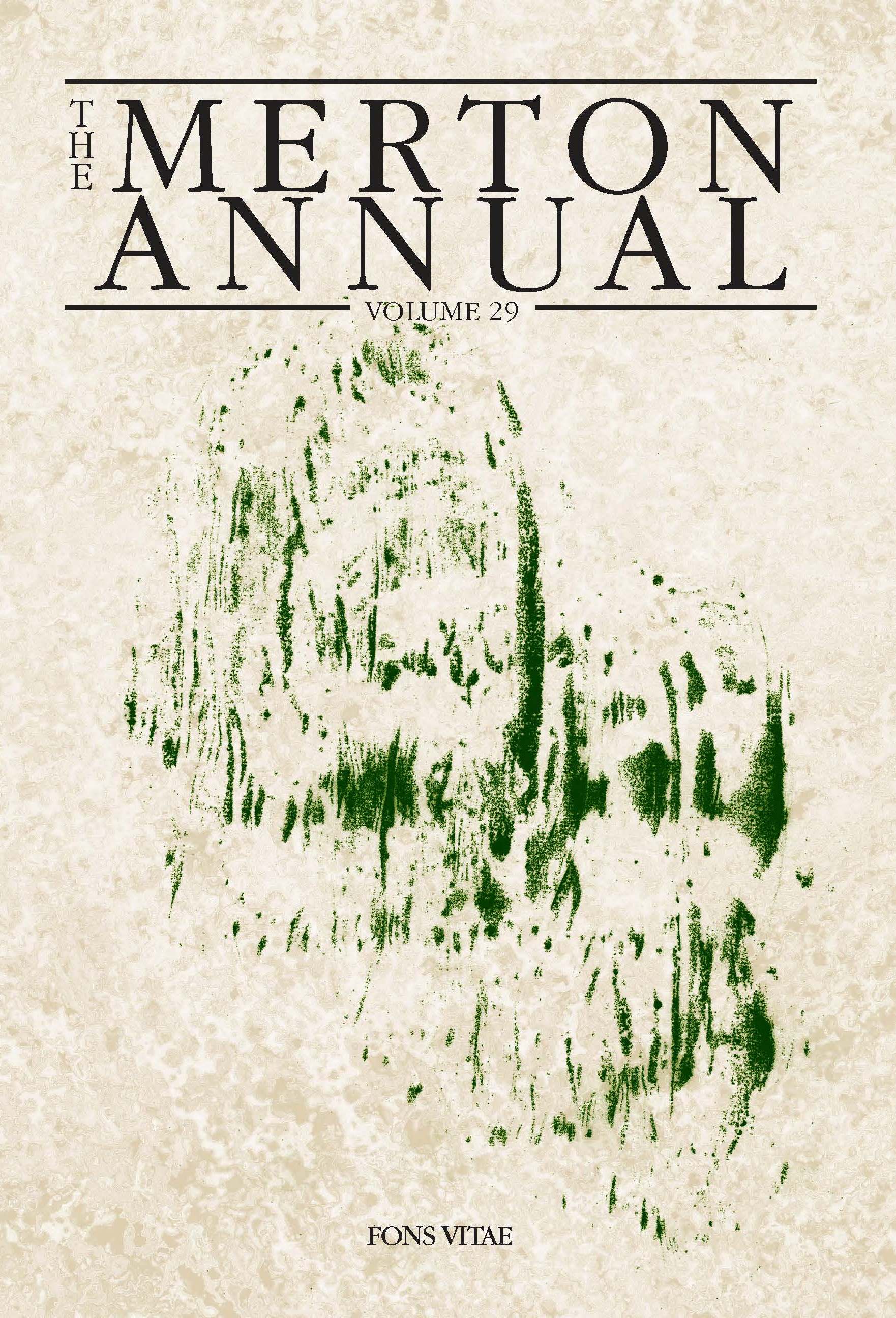 Baker, Kathleen M. "'This Terrific Sense of Geography': Spatial Thinking in Merton's Journals." 72-79.
Brown, Jason M. "Thomas Merton, Wildness and the Sacramental Power of Place." 80-89.
McGregor, Michael N. "The Persistence of Harlem in the Life and Legacy of Thomas Merton." 90-98.
O'Connell, Patrick F. "Trappists, Working – Trappists, Praying: The Earliest Monastic Poetry of Thomas Merton." 99-124.
Weis, Monica, SSJ. "Was Thomas Merton Merely Dabbling in Early Irish Poetry?" 125-144.
Plekon, Michael. "'What I Wear Is Pants. What I Do Is Live. How I Pray Is Breathe': Merton and the Spiritual Life in the Twenty-First Century." 145-158.
Grayston, Donald. "Public Intellectual, Democratic Dissenter: Thomas Merton on Nuclear Weapons." 159-179.
Stuart, Angus F. "Thomas Merton and Henry Miller: A Correspondence in Vision." 180-187.
Clark, Anthony E. "Finding Our Way: Thomas Merton, John Wu and the Christian Dialogue with Early China." 188-202.
O'Hare, Padraic. "Young Adult Spiritual Lives: Merton, Moran and Monastic Resources." 203-220.
Raab, Joseph Quinn. "Relevance and Ambivalence: A Bibliographic Review of Thomas Merton's Centenary (2015)." 221-230.
Raab, Christian, OSB. Rev. of Charter, Customs, and Constitutions of the Cistercians: Initiation into the Monastic Tradition 7 by Thomas Merton, edited by Patrick F. O'Connell. 231-234.
Matthews, Gray. Rev. of Early Essays, 1947-1952 by Thomas Merton, edited by Patrick F. O'Connell. 234-237.
Bosco, Mark, SJ. Rev. of The Letters of Robert Giroux and Thomas Merton, edited by Patrick Samway, SJ. 237-239.
Horan, Daniel P. OFM. Rev. of Thomas Merton and the Noonday Demon: The Camaldoli Correspondence by Donald Grayston. 239-242.
Bamberger, John Eudes, OCSO. Rev. of Make Peace Before the Sun Goes Down: The Long Encounter of Thomas Merton and His Abbot, James Fox by Roger Lipsey. 243-246.
O'Connell, Patrick F. Rev. of The Only Mind Worth Having: Thomas Merton and the Child Mind by Fiona Gardner. 246-251.
Bell, Ian. Rev. of In the School of Prophets: The Formation of Thomas Merton's Prophetic Spirituality by Ephrem Arcement, OSB. 252-254.
Oyer, Gordon. Rev. of Thomas Merton, Peacemaker: Meditations on Merton, Peacemaking, and the Spiritual Life by John Dear. 254-257.
Gardner, Fiona. Rev. of Merton and Waugh: A Monk, A Crusty Old Man & The Seven Storey Mountain by Mary Frances Coady. 257-260.
Brumfield, Joshua. Rev. of Divine Discontent: The Prophetic Voice of Thomas Merton by John Moses. 260-263.
Bochen, Christine M. Rev. of At Play in Creation: Merton's Awakening to the Feminine Divine by Christopher Pramuk. 263-268.
Hillis, Gregory K. Rev. of The Unquiet Monk: Thomas Merton's Questing Faith by Michael W. Higgins. 269-270.
Hillis, Gregory K. Rev. of Pure Act: The Uncommon Life of Robert Lax by Michael N. McGregor. 270-273.