Tuesdays With Merton
A webinar series presented by the International Thomas Merton Society and the Center for Spirituality at St. Mary's College in Notre Dame on the second Tuesday of each month. Free and open to the public. Registration required.
Recordings of the webinars will be available on the Tuesdays with Merton YouTube Channel within a few days of their broadcast: Tuesdays with Merton YouTube Channel. Audio-only versions also will be available later via podcast.
---
If you're enjoying these free webinars why not consider supporting the work of the ITMS by becoming a member or making a donation.
---
Upcoming Tuesdays with Merton
---
Washington Watches the Monk II.
February 14, 2023, 8 PM
. EST
Washington Watches the Monk II is a sequel to Bob Grip's essay in The Merton Seasonal (available at: http://merton.org/ITMS/Seasonal/11/11-1Grip.pdf) revealing U.S. government files about Thomas Merton. Drawing on his decades as a journalist, Grip filed Freedom of Information Act requests to various agencies to explore the federal government's archives. He discovered everything from routine records to evidence of illegal surveillance, which he will illustrate. This session will also include comment from a Pulitzer Prize winning journalist on the surveillance of private citizens.
Bob Grip devoted his entire professional life to journalism, most of it on the air in television news, including reports from the U.S. Gulf Coast to the Middle East to Europe including a meeting with Pope (and now Saint) John Paul II. He also taught multimedia journalism for 25 years at Spring Hill College in Mobile, Alabama. Grip earned his bachelor's degree from Boston College and a master's degree in Journalism from The Ohio State University. He is a former board member, treasurer and President of the International Thomas Merton Society.
---
MARY FROHLICH, RSCJ
Merton as Disciple and Re-interpreter of St. John of the Cross.
March 14, 2023, 8 PM. EST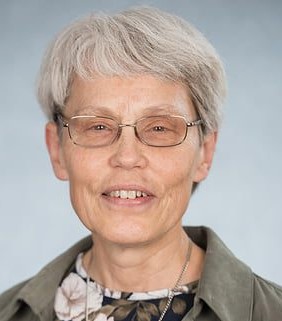 When Young Thomas Merton first awakened to prayer during his student years at Columbia University, he turned to the writings of St. John of the Cross for contemplative wisdom. Near the end of his life when Merton summed up his teaching on prayer in his book Contemplative Prayer, John of the Cross appeared again as one of his most important sources. This presentation examines how Merton based his approach strongly upon some aspects of John's teaching while creatively weaving it together with a vast array of other sources.
Mary Frohlich, RSCJ, is a Professor Emerita at Catholic Theological Union in Chicago after teaching there from 1993 to 2020. She is a noted scholar of Carmelite spirituality, with numerous published essays on Teresa of Avila, Thérèse of Lisieux, and John of the Cross as well as on broader issues in the tradition. Her book Breathed into Wholeness: Catholicity and Life in the Spirit was published by Orbis in 2019, and she is currently working on another to be entitled The Heart at the Heart of the World. She now resides in Cambridge, MA, and focuses primarily on ecospiritual issues.
---
Previous Tuesdays with Merton Webinars:Previous Tuesdays with Merton Webinars:
For Further Details go to:: TWM - Archivee